82,000 children under ages 0 to 5 die each year from pneumonia, diarrhea, measles, injuries, and neonatal related causes. [1] These numbers raised an alarming warning to the government that lead to the establishment of several health-focused programs to increase people's awareness towards the prevention of these deaths and to emphasize the safeguard of the survival of children. One of the remaining programs that continues to promote universal access of child survival services is called the Garantisadong Pamabata program.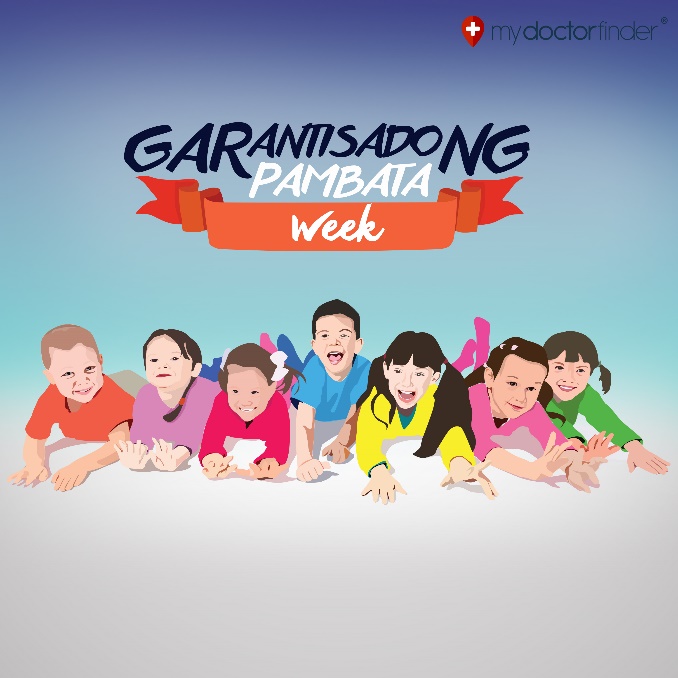 The Garantisadong Pambata Week is a bi-annual program held in April and October to support various health programs created by the Department of Health that promotes positive child care behaviors. [2] The program started way back 1998 where the morbidity and mortality of aged five years old and below was on its peak. Since this program is to reduce childhood illnesses and deaths in the country, educating the public regarding the important role of Vitamin A is crucial. The program wants to reiterate to the Filipinos that Vitamin A contributes to vision and bone growth and at the same time helps the immune system to fight infections. [3]
During the GP week, children are provided with a complete package of health services, de-worming, and Vitamin A and iron supplementation. Meanwhile, parents receive The campaign comprises of 9 child survival intentions: [4]
Skilled attendance during pregnancy, delivery and immediate postpartum
Care of the newborn
Breastfeeding and complementary feeding
Micronutrient supplementation and deworming
Immunization of children and mothers (Baccilli, Calmett, and Guerin or BCG, Oral Polio or OPV, Diphtheria, Pertussis and Tetanus or DPT)
Integrated management of sick children
Child injury prevention and control
Birth spacing
Proper personal hygiene
With the Garantisadong Pambata program, health information campaign, Vitamin A supplements and de-worming services are free and made available through different city/municipal health offices and community health centers. Every GP has its set of stations/sub-stations the covers different activities. These are the following flow of activities to ensure an orderly and systematic course of the health services: [5]
Every April and October, let us continue to support the various Garantisadong Pambata health programs in store by the Department of Health. And, always remember to consult a pediatrician monthly to protect your child from infectious and deadly childhood illnesses. Locate the nearest pediatrician http://bit.ly/MyDoctorFinder_Pediatricians in your area with MyDoctorFinder!
Sources:
[1, 4] "Leading the fight for child health and survival" by Philippine Council for Health Research and Development
[2, 3] "Garantisadong Pambata Program" by Republic of the Philippines – Department of Health
[5] "Expanded Garantisadong Pambata" by Zero Mella